KERR LAKE PARK WATCH submitted this article recently to area newspapers and several  papers printed it in variations.  For you, our members and visitors, we want to provide you with the entire article as the renovated sites in this story now set the pace for recreational RV camping.  We hope you will contact NC State Parks and/or your legislator and push for more such renovations. 
Campers' reactions to renovations soar as popularity and reservations of rehab sites goes up.
A team effort from park staffers yields the best designed and most RV camper friendly public campsites in North Carolina state parks and recreation areas, maybe even for all public camping areas. NC State Parks now gets it: define the resource user area with borders, make it close to level, putting most of the campsite surface on the same level, then make it 3 feet for RV/Trailer slides, 8 feet for camper, 8 feet for awning and the rest for a fire pit and a tent site: perfect!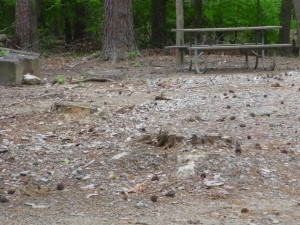 Campsite in 93-99 area before rehabilitation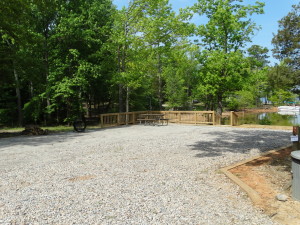 Campsite in 93-99 area after rehabilitation
The camping public at Kerr Lake is buzzing about the seven (7) newly rehabilitated campsites at Hibernia State Recreation Area. Campers and Kerr Lake Park Watch agree the renovations are timely and greatly improve the camping experience. The sites were previously in rough shape and mostly very uneven with stumps, washed out sand or a lot of the rock base being the original quartz stones found naturally on the land turned campground over 50 years ago. There is a story within a story here though being the overflowing positive public reaction to the campsites and how they got sort of a miraculous makeover. The latter part of the story will come in a while.
State recreation areas, particularly those at Kerr Lake, differ from state parks for two main reasons: 1) the majority of the visitors come to interact in/with the water, and 2) with variable water levels that sometimes flood some of the campsites, additional planning and site stabilization has to go into campsite construction or renovations. Since many Kerr Lake campers avail themselves of all the space, a site can easily be full with an RV, trailer or a pop-up camper, plus a tent, picnic canopy, floats, cars and more.
Kerr Lake Park Watch asked a camper from Washington, NC about her five day camping stint on Hibernia's campsite #98 and her comment was, "Absolutely fantastic!  It may be the best campsite we've ever stayed on."
Eddy and Terry Cannady from Oxford, NC were even more emphatic and ecstatic about the new sites as the couple stood and smiled over renovated site #95. Eddy Cannady proudly states that he's been camping at Kerr Lake for over 40 years and loving it though little has changed until now. "When Terry and I first set eyes on these newly redone campsites, I just yelled 'Wow, this is (the difference between) night and day' – they did it all and did it alright!" Cannady said he is most impressed that the sites are mostly level and especially fairly level from side to side, something important in pop-ups, trailers and motorhomes, adding, "The timber layout with the leveling, using real fine gravel for the tent and picnic area, all those things were good but we did not expect the steps, the handrails, the railing around part of the site, even a concrete stoop at the bottom to wipe mud off. These guys did it all and way above anything we've seen at this park, Kerr Lake or just about anywhere."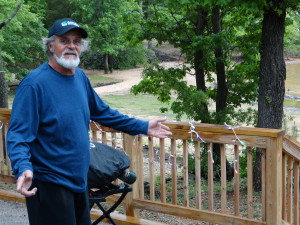 Eddy Cannady, Oxford, NC talks about new Kerr Lake campsites
Like a number of campers around the Kerr Lake parks, the Cannady's have been seen for years, cooking, riding bikes, fishing and visiting. There's a lot of their kind at Kerr Lake. They love it. Demonstrative of that is the fact that Eddy and Terry Cannady were observed by several people earlier in the week picking up trash from a site where someone else left some debris lying around. There was Terry and Eddy picking it up. That's not uncommon for campers, particularly long term campers who become attached to their particular parks.
"It's been a long time coming," said Eddy Cannady speaking of the new site renovations, adding, "It looks like to me that the people in charge would realize they could take a whole lot more money in if they added more electric and water sites here at Kerr Lake and fixed some more up like these." The Cannady's noted that they could not get into Hibernia several weeks ago as the couple wanted to camp to celebrate their wedding anniversary. So they booked into another Kerr Lake park, Nutbush. Terry Cannady said it was a different ballgame, "The showers and bathrooms at Nutbush are awful, terrible, slick with slime, just yuk!" Eddy Cannady agreed, "It's night and day between the new Nutbush boat ramps and the old bathrooms. They need to learn that the better the facilities the more people will come."
That brings the other part of the story, the story of how Kerr Lake Park Watch worked with the local state parks staff to get this project done. "I have to first give credit to District Superintendent Dave Cook and to Kerr Lake Superintendent Bryce Fleming for finding the funding sources and for having the courage to renovate these seven sites 'in house' and for showing everyone else in public parks how to build a better campsite, said Kerr Lake Park Watch's Frank Timberlake who actually was called in a few times to offer input, even help measure for the renovated campsites.
"Campers are tired of washed out, undefined, unleveled and basically unimproved campsites that are not long enough or wide enough for today's campers and RV's. Year after year they pay their money and see little of it come back to the resource and what excites us at Kerr Lake Park Watch is that the guys and gals here at Kerr Lake showed that while they can't fix everything, they can fix some things and better than anyone outside can do!"
Timberlake added that after seeing the contractor shambles of new sites built a few years ago at Henderson Point, campers and the leaders of Kerr Lake Park Watch were dead set against that happening again at Kerr Lake. His reference is to RV sites that are "split-level" where a camper's awning covers nothing but the steps and rocks between the camper level and the lower picnic level. They just don't work. Because most RV's and trailers have expanding slides of about three feet, the regular camper width of eight feet, an awning width of eight feet, plus an area for tenting, cooking and campfires.
"An amazing thing happened at Kerr Lake that could have impetus on other state recreation areas and state parks all over North Carolina, added Timberlake. "From the district superintendent to the grass mower and all in between, mechanics put down their wrenches, rangers put down their guns, maintenance folks put down their rakes and mops and they all, hear me on this, they all worked together to build something. They cut off the head of some of that old state bureaucracy and they saved North Carolina, and thus the taxpayers, thousands of dollars on a really fine job." Timberlake concluded, "We've got the before and after photos, it's pretty plain. All who worked on this project are to be commended and let's not forget the added benefit that came from the different parks workers getting the opportunity to develop a new appreciation for each other and what each other does for the parks, and the positive teambuilding that came out of this significant Kerr Lake camping renovation project. Kerr Lake Park Watch proudly joins the Cannady's and many other campers and gives our state parks team an "A" for a job well done."
An August poll of campers just this week using the new sites found only two complaints:  1) "Why didn't the state put 50 Amp electric service in?" and 2) "Why is the water dropping so fast?"  We answered, "One step at a time, one step."
### – End –